Stephen Shugart – Modern Camping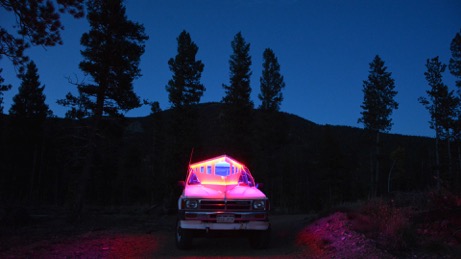 Stephen Shugart's multi-media installation, Modern Camping, opens at Edge Gallery March 13 –March 29. Shugart is a light artist, sculptor and painter. He is interested in creating personal landscapes of the mind through alteration of human visual perception with "landscape viewing devices." Shugart has recently shown at the Incite/Insight nationally juried show at the Ft. Collins Lincoln Center and was a participant in the 2014 Artocade, art car show in Trinidad, CO with Phase 1 of his 4 x 4, all-terrain mobile light sculpture and landscape viewing truck.
The truck's viewing cowl, a light installation by itself, will be on display, in addition to video documentation of the driving experience on national forest roads, and other supporting visuals and devices. Modern Camping investigates a novel way of viewing the natural world. It is a new mode of landscape art–a landscape art experience rather than necessarily a painting or photograph of landscape. Modern Camping is a fusion of lighting technology and nature, directly embodying and synthesizing the nature/civilization duality of our day. Colored light, Shugart says, invokes spirituality and oneness as nature does. Both experiences are complementary and meditative—light is a medium that can capture the illusive interior light of the mind when eyes are closed…when eyes are open and present.