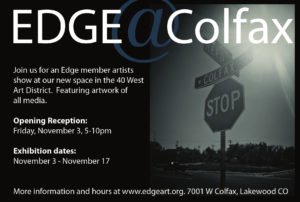 ---
Also:
Check out all the art and cultural opportunities in our new Lakewood home on historic west Colfax:
---
Edge recommends the website One Good Eye for reviews and listings of art exhibitions around Denver. Check it out!
---
EDGE Gallery has 5 openings for new, full member artists.  As one of Denver's preeminent alternative galleries, we are looking for serious experimental and contemporary artists interested in pushing the boundaries of their medium and/or subject matter with a coherent body of work.
If you are interested in applying, please see our Apply Now -Now Interviewing New Members page (also located on the top navigation bar above).
---
Please scroll down to see our past shows.